How Sun Exposure Alters Your Skin Microbiota: Unveiling the Secret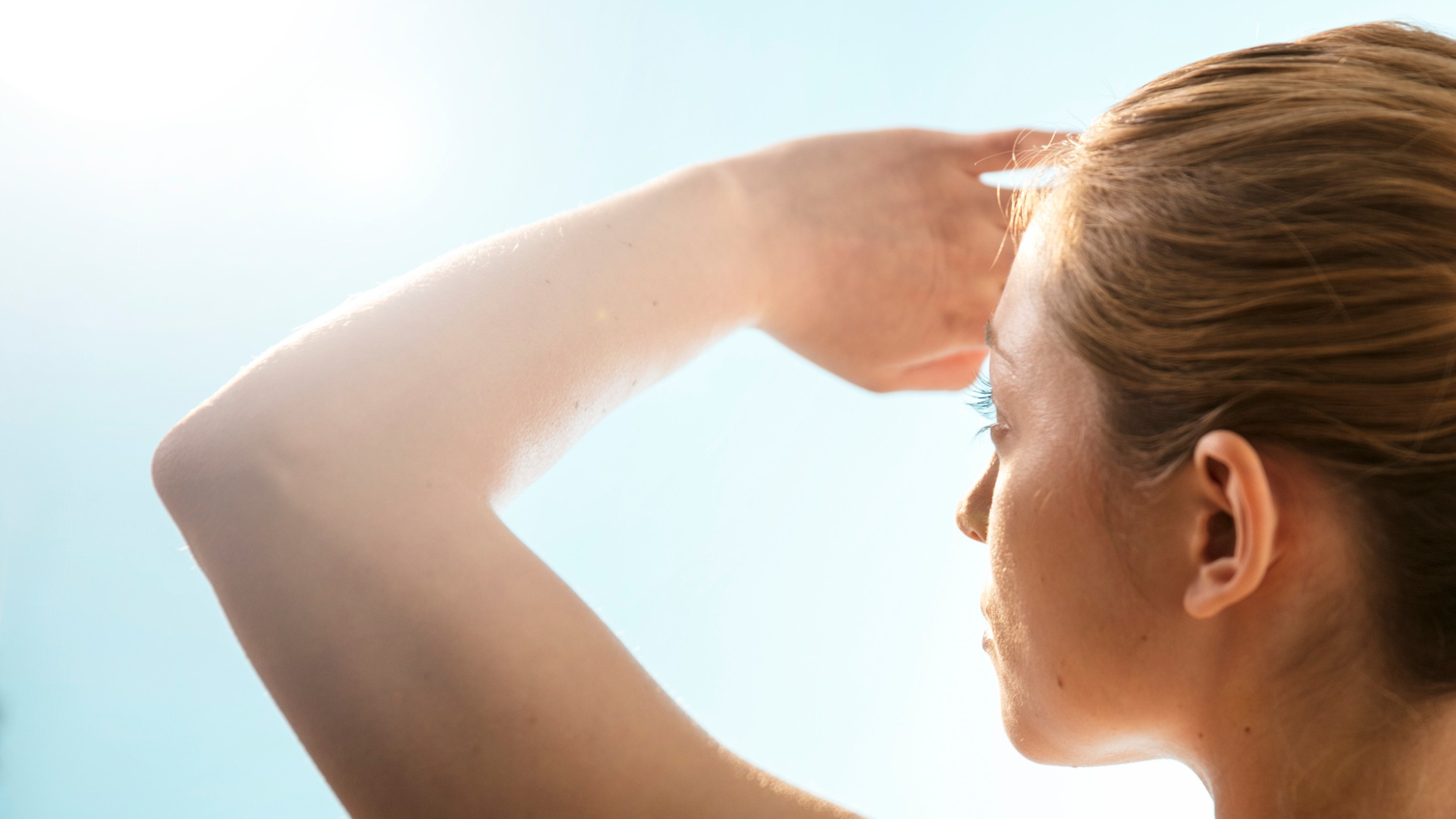 Have you ever returned from a sunny holiday with a glowing tan, feeling rejuvenated and refreshed? While basking in the sun's warmth can provide numerous benefits, a recent study sheds light on a hidden aspect of this experience – its impact on your skin's microbiota. Researchers have discovered that the skin's microbial landscape undergoes changes when exposed to the sun, and these alterations could have intriguing implications for your skin health.
The Skin Microbiota: Your Skin's Hidden Ecosystem
The skin, housing an intricate mix of bacteria, fungi, and viruses known as the skin microbiota, is akin to our gut's role in overall health. This complex ecosystem helps protect against harmful pathogens, supports the immune system, and contributes to the skin's overall well-being.
The relationship between sun exposure and skin health is a topic that has intrigued scientists and health enthusiasts for years. Ultraviolet radiation (UVR) from the sun can lead to both positive and negative effects on our skin. While controlled sun exposure is important for producing essential vitamin D, excessive or unprotected exposure can result in DNA damage, inflammation, and photoaging. Skin cancer is also a significant concern associated with prolonged and intense sun exposure.
A Unique Research Approach
In a groundbreaking study led by Thomas Willmott and Paul M. Campbell, researchers set out to investigate how sun exposure during holidays influences the composition of the skin's microbiota. They recruited 21 healthy volunteers (4 males and 17 females) who embarked on sunny vacations lasting at least 7 days. Swabs were taken from participants' skin before the holiday and at different time points up to 84 days post-holiday. The researchers were particularly interested in understanding how different behaviours and tanning responses affected the skin microbiota.
The Findings: Sun Exposure Alters the Microbial Landscape
The results of the study were striking. The researchers found that the skin microbiota of participants underwent significant changes in response to sun exposure. The major bacterial groups identified on the skin included Actinobacteria, Proteobacteria, and Firmicutes. Importantly, there was a significant alteration in microbial diversity about 28 days after the holiday, indicating that sun exposure had a lasting impact on the skin's microbial community.

Tanning Responses and Microbiota Shifts
What's even more intriguing is the categorization of participants into different groups based on their tanning responses. Among those who developed tans after the holiday, a reduction in Proteobacteria abundance was observed immediately after the holiday. However, this reduction was temporary, as the microbial diversity and composition rebounded over time. On the contrary, participants who already had tans before the holiday or avoided sun exposure showed no significant shifts in their microbiota. Skin-specific Proteobacteria contribute to maintaining skin microbiota balance and health, participating in processes that sustain overall skin functionality. Some Proteobacteria with known environmental presence might have specialised adaptations, such as skin-specific ecotypes, influencing skin homeostasis and interactions between environmental and human microbial communities (Cosseau et al., 2016).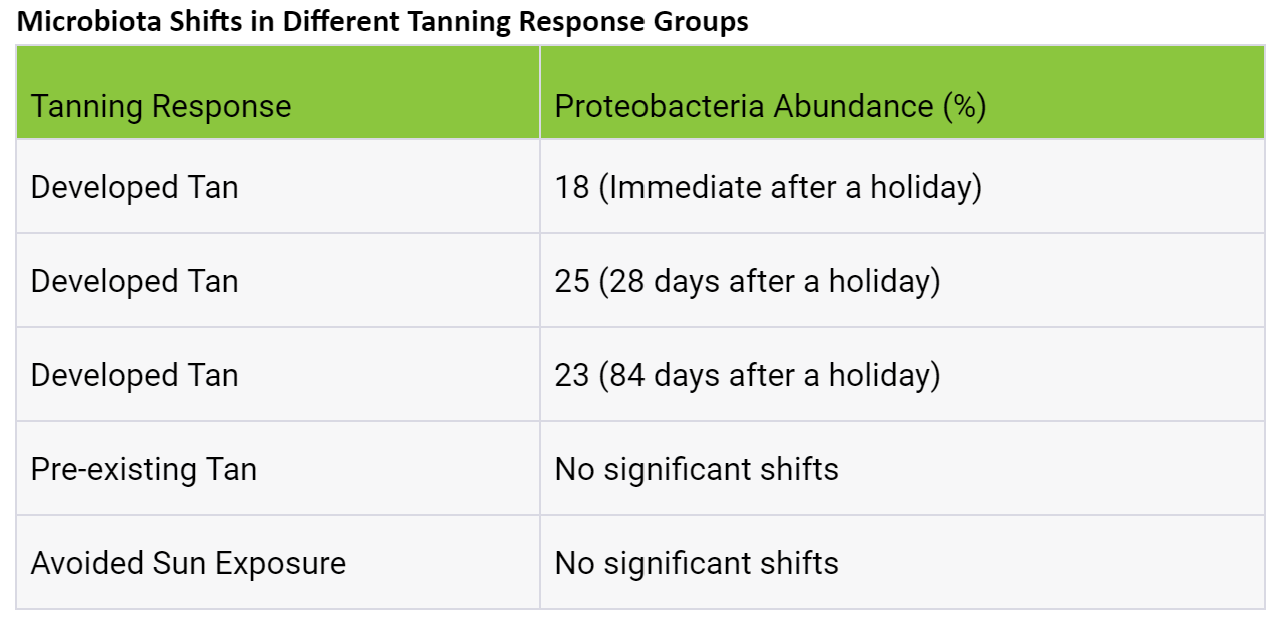 Implications for Skin Health
The study's findings suggest that sun-seeking behaviour, leading to tanning responses, directly impacts the diversity and composition of the skin's microbiota. Many studies have established a link between sun-seeking behaviours among vacationers and detrimental effects on skin health (O'Riordan et al., 2008; Petersen et al., 2013). For instance, a mere week of sun exposure has been shown to activate the expression of biomarkers associated with photoaging (Lesiak et al., 2016), and there is evidence connecting skin cancer to harmful sun-seeking travel habits (Karlsson et al., 2021).
While genetics undeniably influence the skin's response to UV radiation (D'Orazio J et al., 2013), practical steps can still be taken to counteract its effects. One fundamental approach is practising effective sun protection. This involves using sunscreen with a high SPF, applying it regularly, wearing protective clothing, and seeking shade during the sun's peak hours. Additionally, sun-safe behaviours, like avoiding excessive tanning and embracing responsible sun-seeking practices, contribute significantly to long-term skin health.
In conclusion, the recent study highlighting the alterations in skin microbiota due to sun exposure unveils a previously unseen dimension of the sun-seeking experience. The skin's microbiota, a diverse community of microorganisms, responds to sun exposure in intricate ways, underscoring the interconnectedness of external factors, individual behaviours, and skin health. As research continues to unravel the complexities of this relationship, one thing remains clear – the pursuit of healthy skin extends beyond topical care to encompass mindful sun exposure practices and an appreciation for the intricate ecosystems that reside within us. So, the next time you plan a sun-soaked holiday, remember that while you are soaking in those rays, your skin's microbial residents are also experiencing their own unique journey – one that's intimately connected to your overall well-being.
References
Cosseau, C., Romano-Bertrand, S., Duplan, H., Lucas, O., Ingrassia, I., Pigasse, C., Roques, C., & Jumas-Bilak, E. (2016). Proteobacteria from the human skin microbiota: Species-level diversity and hypotheses. One health (Amsterdam, Netherlands), 2, 33–41. [DOI: 10.1016/j.onehlt.2016.02.002]
D'Orazio, J., Jarrett, S., Amaro-Ortiz, A., & Scott, T. (2013). UV radiation and the skin. International journal of molecular sciences, 14(6), 12222–12248. [DOI: 10.3390/ijms140612222]
Karlsson, O., Hagberg, O., Nielsen, K., Paoli, J., & Ingvar, Å. (2021). Difference in Sun Exposure Habits Between Individuals with High and Low Risk of Skin Cancer. Dermatology practical & conceptual, 11(4), e2021090. [DOI: 10.5826/dpc.1104a90]
Lesiak, A., Rogowski-Tylman, M., Danilewicz, M., Wozniacka, A., & Narbutt, J. (2016). One week's holiday sun exposure induces expression of photoaging biomarkers. Folia histochemica et cytobiologica, 54(1), 42–48. [DOI: 10.5603/FHC.a2016.0001]
O'Riordan, D. L., Steffen, A. D., Lunde, K. B., & Gies, P. (2008). A day at the beach while on tropical vacation: sun protection practices in a high-risk setting for UV radiation exposure. Archives of dermatology, 144(11), 1449–1455. [DOI: 10.1001/archderm.144.11.1449]
Petersen, B., Thieden, E., Philipsen, P. A., Heydenreich, J., Young, A. R., & Wulf, H. C. (2013). A sun holiday is a sunburn holiday. Photodermatology, photoimmunology & photomedicine, 29(4), 221–224. [DOI: 10.1111/phpp.12048]
Willmott, T., Campbell, P. M., Griffiths, C. E. M., O'Connor, C., Bell, M., Watson, R. E. B., McBain, A. J., & Langton, A. K. (2023). Behavior and sun exposure in holidaymakers alters skin microbiota composition and diversity. Frontiers in aging, 4, 1217635. [DOI: 10.3389/fragi.2023.1217635]